News
CAO Releases New Advisory Note: Insights on Remedy - The Remedy Gap
Lessons from CAO Compliance and Beyond
10 Apr 2023 CAO Advisory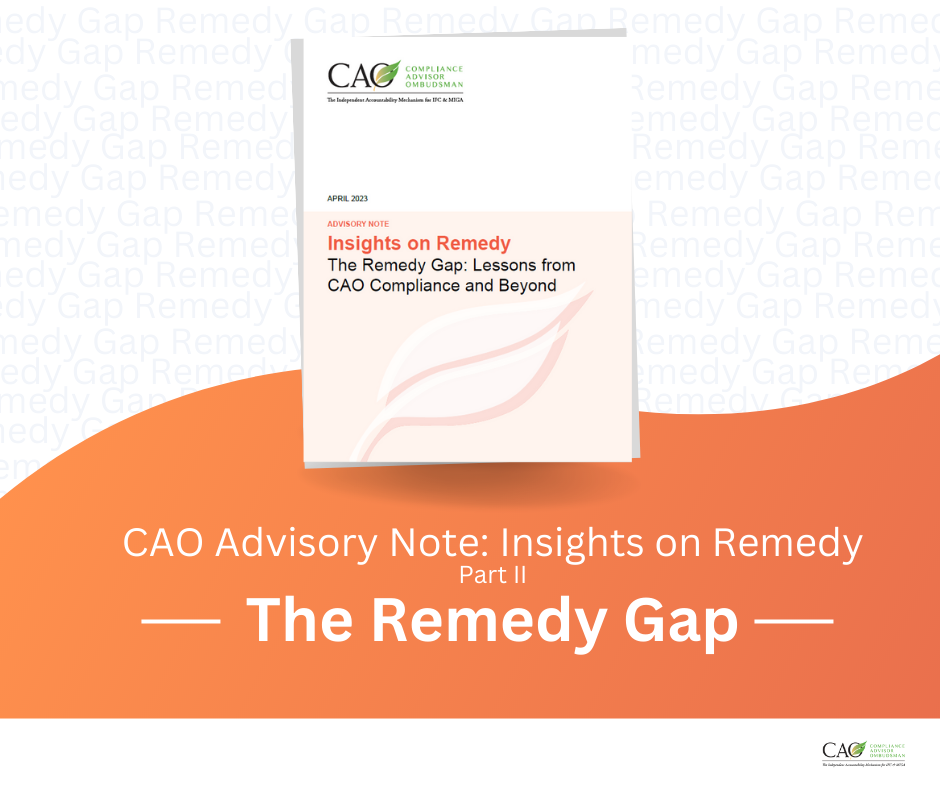 CAO is pleased to announce the second Advisory Note in its Insights on Remedy series, "The Remedy Gap: Lessons from CAO Compliance and Beyond."
Insights on Remedy - The Remedy Gap: Lessons from CAO Compliance and Beyond
This CAO Advisory Note is part of a series that seeks to inform IFC and MIGA's approach to remedial action to address potential or actual harm that may unintentionally arise in the development process. Drawing from CAO's casework, this note explores the "remedy gap" that occurs when harm to people arising from the adverse impacts of IFC/MIGA projects is not remedied through the actions of IFC/MIGA or their clients. It highlights contributing factors and presents findings and recommendations to help IFC and MIGA close the remedy gap.
IFC and MIGA's environmental and social policy frameworks include commitments that, in principle, provide for remedial action to address adverse project impacts on communities. A review of CAO casework indicates that, in practice, current environmental and social risk management approaches have left many project-affected people without remedy. The result is a "remedy gap" whereby people lodging a complaint with CAO often do not see their specific concerns addressed despite attempting dispute resolution or undergoing a lengthy compliance process. Instead, they are left to suffer harm and bear the unintended cost of development projects, even in cases where CAO has found non-compliance by IFC/MIGA. These unintended costs can take many forms including loss of livelihood, poor health, loss of cultural identity, and environmental damage.
A review of CAO cases for this paper provides important insights for IFC and MIGA about factors that can lead to a remedy gap, and actions that can help close it. This includes ensuring people are aware of grievance redress options, including CAO; taking complainant's concerns seriously; strengthening IFC/MIGA and client reporting on grievance and incident response; addressing concerns prior to investment exit; use of leverage; implementation of timely and responsive Management Action Plans; contributing to remedy where IFC/MIGA have contributed to harm; and identifying CAO cases where a significant remedy gap exists and measures to address these.
Along with CAO's first note in the series, "Insights on Remedy: The Role of Dispute Resolution in Remedy" and CAO's report "Responsible Exit: Discussion and Practice in Development Finance Institutions and Beyond", these reports aim to inform the operationalization of IFC/MIGA commitments to develop a remedial action framework and an approach to responsible exit and, in turn, strengthen CAO's ability to facilitate access to remedy through its processes. The reports also serve as a useful resource for other development finance institutions and organizations as they build upon ongoing work to mitigate risk, reduce harm, and contribute to lasting positive impacts on people and the environment.