News
CAO Releases New Advisory Reports on Remedy and Responsible Exit
06 Feb 2023 CAO Advisory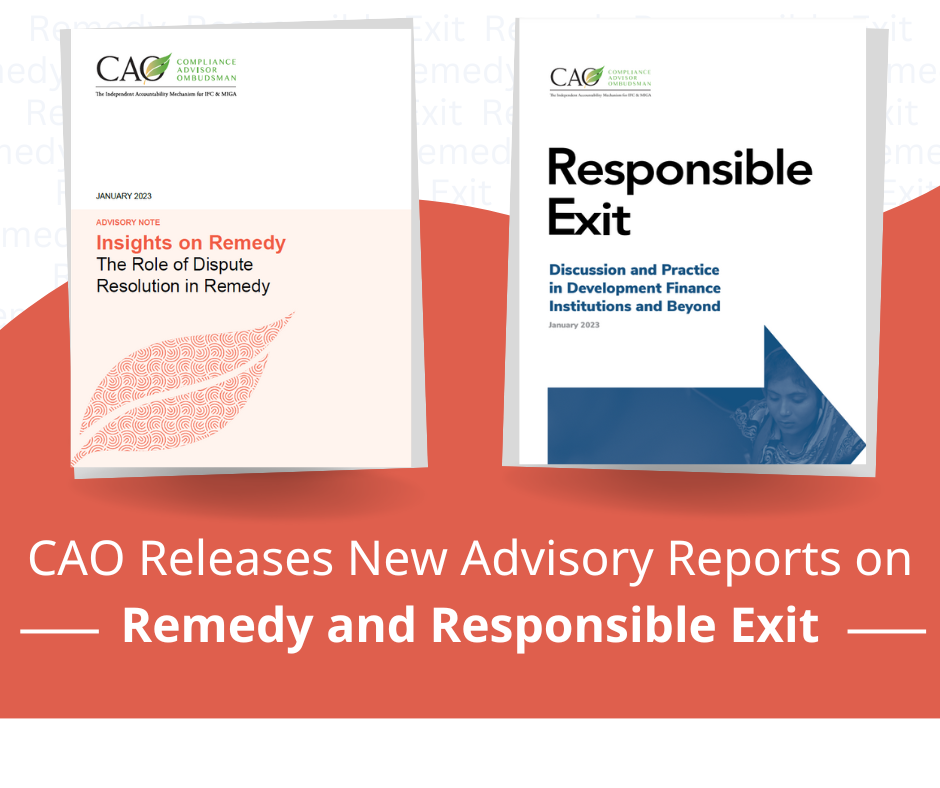 CAO is pleased to announce the release of two new reports on remedy and responsible exit from its Advisory Function:
Insights on Remedy: The Role of Dispute Resolution in Remedy
Responsible Exit: Discussion and Practice in Development Finance Institutions and Beyond
Development finance institutions, public and private sector actors, and civil society organizations have important roles to play in enabling remedy in situations where projects adversely impact people and the environment. The need to spotlight and facilitate discussion and action on this issue follows questions raised by cases where development projects have resulted in alleged environmental and social harm for project-affected people, and this harm remains unaddressed despite their efforts to bring the issues to the attention of financiers and complaints mechanisms like CAO. Where harm is not remediated, it can result in a "remedy gap". This includes situations where an investor's exit from a project may leave harm behind or even contribute to harm and raise questions about the investors' responsibilities, and how they can appropriately contribute to remedy.
Remediating project impacts when they occur is an integral part of IFC and MIGA's Environmental and Social Sustainability Frameworks. Facilitating access to remedy for project-affected people is also a core aspect of CAO's mandate.
CAO's advisory note on Remedy is part of a series of short notes that CAO is preparing to inform the development of IFC and MIGA's approach to remedial action. These notes share insights on facilitating remedial action to address potential or actual harm that may unintentionally arise in the development process. Drawing from CAO case experience, the first note, "The Role of Dispute Resolution in Remedy," identifies opportunities for IFC and MIGA to support remedial outcomes for project-affected people via CAO dispute resolution processes.
CAO's report on Responsible Exit highlights findings from a landscape study that explored how a range of actors frame and approach responsible exit. Study participants included development finance institutions and banking institutions, impact investors, and civil society organizations who are considering or developing policy, guidance, or practice related to responsible exit. Based on interviews, a roundtable discussion, survey, and literature review, the study presents key findings, and offers conclusions on advancing responsible exit strategies for investment institutions, as well as an analysis of the study's implications for IFC.
The goal of these reports is to inform and support operationalization of commitments by IFC/MIGA to develop a remedial action framework and an approach to responsible exit and, in turn, strengthen CAO's ability to facilitate access to remedy through its processes. The reports also serve as a useful resource for other development finance institutions and organizations as they build upon ongoing work and facilitate processes that mitigate risk, reduce harm, and contribute to lasting positive impacts on people and the environment.